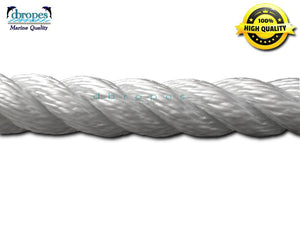 White 3-Strand Nylon Line, 1/2'' Diameter, 6400 lb. Breaking Strength, Max. Length 150' Made in USA (price per ft)
3 Strand 100% Nylon Rope Line Premium 1/2" Diameter. MAX LENGTH 150 FEET
This Excellent 3 Strand Twisted 100% PREMIUM Nylon Rope is desirable marine rope material due to its strength and durability.
Made with Premium high-tensile American manufactured 100% nylon fibers is, acid, mildew, rot, oil and gas resistant.
Minimum Tensile Strength: 6400 lbs. based upon testing according to the Cordage Institute Standard Testing Methods for Fiber Rope and/or ASTM D-4268 Standard Methods of Testing Fiber Ropes.

High Quality 100% Nylon Rope

High Strength, Abrasion, Durability, Handing, Shock Load, Mildew&Rot Resistant
UV and Chemical Resistance
Torsion-Balanced
Common Applications:
 Dock Lines
 Anchor Ropes
 Mooring Lines and Pendants
 Tow Lines
 Shock Absorbers