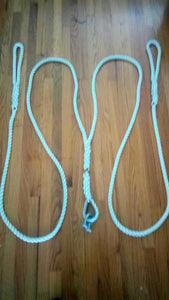 3/4" X 9' Three Strand Double Mooring Pendant 100% Nylon Rope with SS Thimble ideal for catamaran (Tensile Strength 13800 Lbs.) Made in USA. FREE EXPEDITED SHIPPING
FREE EXPEDITED SHIPPING with USPS. (1 to 3 business days delivery)
3 Strand Double Mooring Pendant Marine 100% Nylon Rope 3/4In. X 9 Ft. (1 ft + 2 Lines of 8ft) with Stainless Steel Thimble;
This Excellent 3 Strand Twisted 100% PREMIUM Nylon Rope is desirable marine rope material due to its strength and durability.
Made with Premium high-tensile American manufactured 100% nylon fibers is, acid, mildew, rot, oil and gas resistant.
Minimum Tensile Strength: 13800 lbs. based upon testing according to the Cordage Institute Standard Testing Methods for Fiber Rope and/or ASTM D-4268 Standard Methods of Testing Fiber Ropes.
Good for Catamarans up to 38 feet.

High Quality 100% Nylon
Minimum Tensile Strength: 13800 lbs. based upon testing according to the Cordage Institute Standard Testing Methods for Fiber Rope and/or ASTM D-4268 Standard Methods of Testing Fiber Ropes.
Stainless Steel Thimble on buoy end. Professionally spliced soft eyes (2) on boat end (12" each)
Shackle not included.
Abrasion, Durability, Handing, Shock Load, Mildew&Rot Resistant
Good for Catamarans up to 38 feet
---
We Also Recommend